Team Slug has made it to 2008. Chief Slug Running Man himself called from a drinking establishment of ill-repute (complete with scantily / not clad ladies --- i know because, he sent pics over his phone) in Panama City Beach last night to send greetings to the Slugs. He is very excited about the "State of da' Slugs." We are just one short year now from reaching our 20th Anniversary year (Fall non-event 2009); and are hoping for a TSI Reunion Run. He's thinking Florida or South Carolina (home of the famed, and super-secret
Slugs from Hell
, so we'll see as it gets closer.
Here in the First State, we're now just a few days from the Fattest Butt. This will be the 18th Consecutive year TSI has held this non-event, and we have a good field assembled. Lots of prospective Slugs have registered, and i expect most to finish. Wisely, hundreds of past Slugs are not coming; though we do remember and appreciate each one of them.
At Team Slug, our goal is to keep moving; and as
any / all of us
grow older, we're going to slow down and slug / slog. But, we're still here, and still moving. And to us, that's what counts. So we're glad to have you along, no matter what level of "speed" you bring to the course. Of course, speed is relative. There is always somebody, faster or slower; always!
I've also been fielding several questions related to Slug merchandise and the Cafe Press. It was set up by Pavvy, The Big Brown Pony. And, if you don't know him, then i'm sorry. He is one of the Greatest Slugs ever to pull on a black t-shirt. He runs slower & longer, than anyone i know. While I haven't personally used the service, several of the Florida Slugs have ordered off the site, and are satisfied with their purchases. Again, i've seen pics of the thongs --- it ain't pretty :)
For the prospective Slugs coming to Fattest Butt; you will have the Opportunity to purchase one of the Original Black 100% Cotton Team Slug t-shirts. While we are not an "Official Club" and this is a "Non-event"; you will always be a member of our little gang of bandits. Running Clubs / Running Events may come and go; but Slugs are Forever. Veteran Slugs who've already earned the shirt will receive a Team Slug trinket, this year the Finisher's Mug. It is two-sided with the Slug logo on one side, and this logo on the other: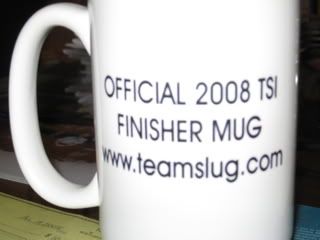 I believe several of you all have a collection of them from past years. Running Man asked me to share that the 2008 Russell B. Cheney event, to be held on September 27th (da' Hitman's birthday); will feature a Team Slug 20th Anniversary Beer Drinking Stein. This is in honor, and at the special request of Brother James "The All-Niter" Moore. Wow, I wonder what James will do with a beer stein ???
Finally, the TSI Executive Board is finalizing the decision on the upcoming TSI 2008 Hall of Fame announcement. I think you all will be pleased. OK, I'm back off to Key West to do some surf fishin' with Running Man. No doubt, da' Hitman will assure that all coming to Fattest Butt WILL enjoy their day amongst Slugs.
Happy New Year,
Flatfoot Freddie