...and the Top-Secret Slug Course is being groomed. everyone knows that january in the middle atlantic is pure h*ll. last year, the temps topped at seventy degrees with sunshine. of course, it's global warming; and the republicans fault (mostly W's). however, this year we're bringing in 17 kilotons of glacial ice from greenland. naturally, it'll be grossly hacked, and chopped into fine pieces; and strewn around the course at opportune points. flatfoot freddie is in close contact with the National Weather Service who assure us there will be dastardly cold and miserable freezing rain / ice on fatt butt day. so don't forget yer parkas. ranger rick ain't real pleased with us right now either. seems someone left their team slug thong, hanging on the handlebars of the park ranger's four wheeler. and, it appeared soiled. this is not good slugs; and what it means is that big bertha; was in the park, against my wishes.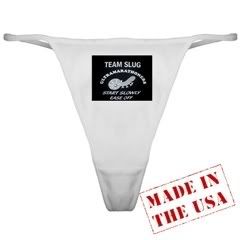 it's ok, it's all good; we're sendin' pokey in with some peanut brittle to appease the rangers. however, there will absolutely, positively be no bushwhackin' and jumpin' fences this year. team slug is "this" close to getting kicked out of the first state...and we just need to be able to hold on another year or two. what i am requesting is that y'all don't run so danged fast; i really enjoyed being out in the forest in the pitch blackness last year. the delaware devil-beasts are out on full moon nights; and while i heard him last year; this year i'm hoping to pop him with a pea shooter...and i don't like to be out their alone; in case i miss. it wouldn't be pretty. the ole DDB has sharp teeth, and bad breath.
hope all are enjoyin' some fine fall training; happy days, the big brown pony...